The ARTF Partnership Framework and Financing Program (PFFP),formerly known as the Financing Strategy, is a multi-year document that sets the strategic priorities of the ARTF program, the partnership's approach to enhanced quality in program delivery (fiduciary, gender, safeguards, etc.), and the financing plan for ARTF resources.
First introduced at the 2010 London Conference on Afghanistan, the strategies have become a regular planning tool used by all ARTF partners to identify financing and operating priorities for the trust fund. Previous strategies ran from Afghanistan's FY1391 to FY1393 (2012 to 2014) for financing totaling US$ 3.6 billion, from FY1394 to FY1396 (2015 to 2017) for US$ 2.4 billion, and from FY1397-FY1399 (2018-2020) for US$ 2.5 billion. The current PFFP covers the period from FY1400-FY1403 (2021-2024) and focuses on six priorities: gender equality, conflict sensitivity, climate, strong fiduciary controls, strategic technical assistance, and close portfolio monitoring.
Each PFFP is developed in close consultation with the government and ARTF donors to ensure alignment with Afghanistan's development priorities and current development strategies.
PFFPs summarize the core areas of ARTF support to the Government of the Islamic Republic of Afghanistan (GoIRA), including recurrent civilian costs, policy reforms, development initiatives, and service delivery programs that align with GoIRA's current national development plans.  The Steering Committee annually reviews and updates the strategy based on recommendations from the Strategy Group.
Current PFFP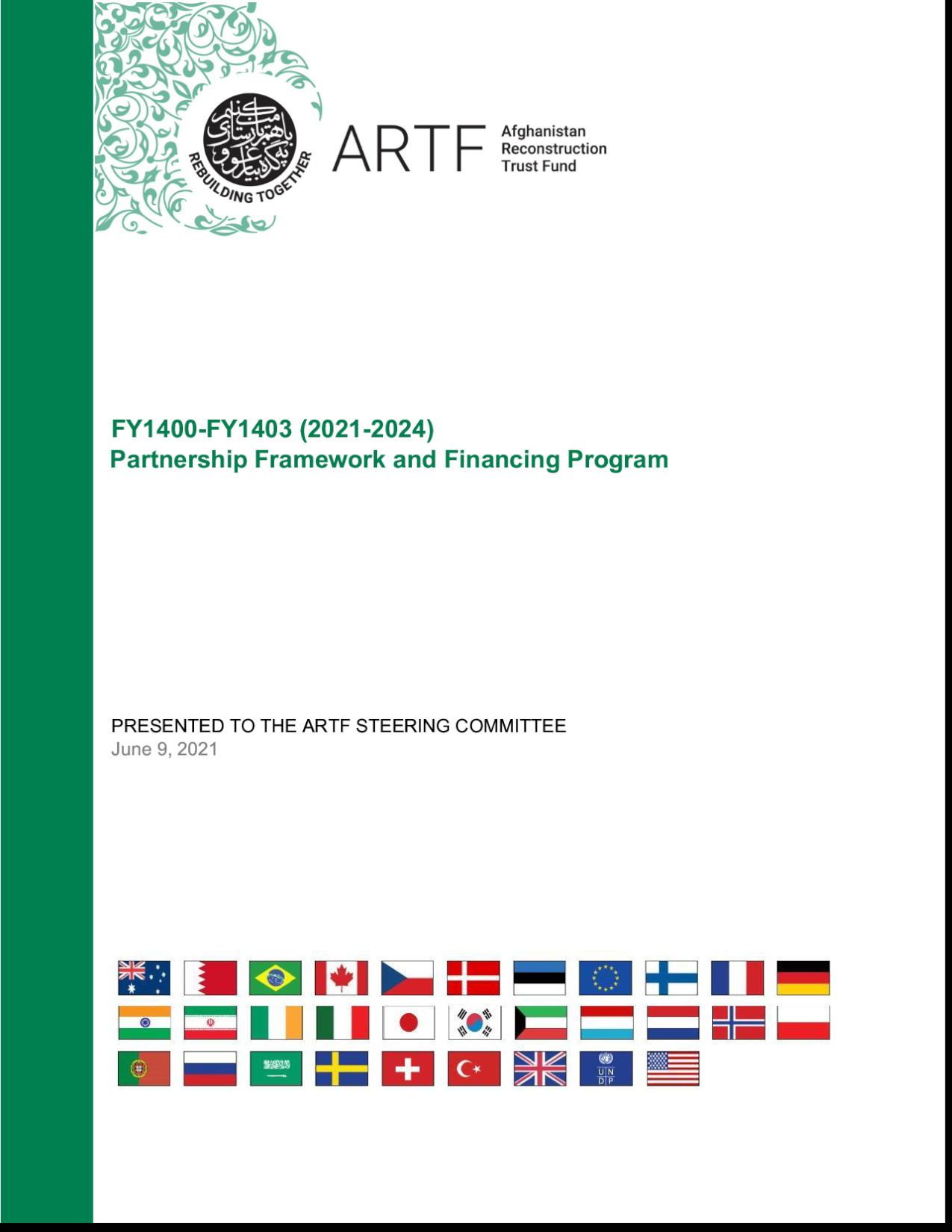 Previous PFFPs
Past ARTF Financing Programs
Financing Strategy Update 2016
2015-2017 (1394-1396) Financing Strategy
Financing Strategy Update 2014
Financing Strategy Update 2013
2012-2014 (1391-1393) Financing Strategy