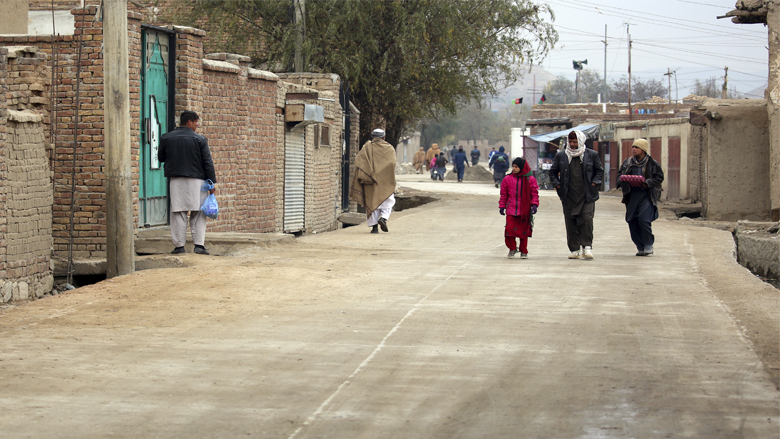 ---
Story Highlights
Residents of a district in Kabul Province have seen significant improvements to their lives after the main road through their villages was paved.
The road rehabilitation, undertaken by the Afghanistan Rural Access Project, has meant quicker access to health care and markets and resulted in more people moving to the area.
The project builds all-season roads, benefiting rural communities by improving residents' access to basic services and facilities throughout the year.
---
CHAHAR ASYAB DISTRICT, Kabul Province – In a small bazaar between the Kabul–Logar highway and the Gulbagh bridge, a crowd of people are busy doing business. A concrete road passes through the bustling market, dividing it in two. Fakhrudin (name changed), 40, owns a small grocery shop and has been working in the bazaar since he "understood the difference between his right hand and his left hand", an Afghan expression for childhood.
Fakhrudin, a father of six, has knee problems. He is happy about the 7.85-kilometer concrete road, which was rebuilt by the Afghanistan Rural Access Project (ARAP) in 2016. The improved road has eased his daily walk between home and shop. "Our road was in bad condition. Pools of water and mud in winter were the worst," he says. "When the road was not paved, I commuted with so much difficulty from my home to the shop and back."
The road connects 24 villages, with a total population of around 15,000 people, to basic services, including the Chahar Asyab bazaar where Fakhrudin runs his shop. ARAP's support for paving the road has made it usable in all seasons, improving daily life for thousands of district residents.
The road eventually reaches Qalai-Jafar village, on the edge of Chahar Asyab district, more than 40 kilometers southeast of Kabul city. In a corner near Qalai-Jafar's main mosque, a group of boys are happily playing football. Afarin, 36, glances at the scene as she walks by. "It was a big concern for us when our children were outside. We knew they would come back with dirty clothes. Most people used to ask their children to stay home and not go out. But hopefully, there are no worries anymore."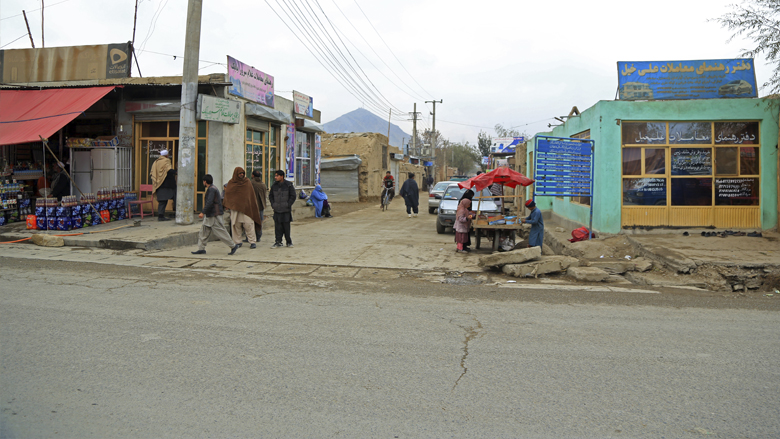 She had herself fallen into a dirty puddle on the road and had been cautious about venturing out. "Before the road was paved, I was always afraid of walking out myself, because I had once slipped and fell down in dirty water," she says. "All my clothes and vegetables became dirty."
These issues have since been resolved by ARAP, which built a drainage system along the all-season road, maximizing the benefit to residents in this rural part of Kabul Province. Implemented by the Ministry of Public Works and Ministry of Rural Rehabilitation and Development and coordinated by the Ministry of Finance, ARAP aims to bring similar benefits to rural communities across Afghanistan.
ARAP is a follow-on project of the National Emergency Rural Access Program and is supported by the International Development Association (IDA), the World Bank Group's fund for the poorest countries, and the Afghanistan Reconstruction Trust Fund (ARTF), managed by the World Bank on behalf of 34 donors. 
---
"After the road was paved, new shops have been built. Access to the market has become easy and residency has increased in the area."
- ARAP provincial engineer, Kabul Province
---
More Attractive Area
Most Chahar Asyab residents earn their living through agriculture. The paved road provides easy access to markets, allowing many district residents to transport their products to Kabul city in just a matter of minutes on a good day. The chairperson of the Chahar Asyab Community Development Council, recalls when local farm produce could not reach the market on time and when a resident died because of the poor road conditions. "The number of shops in our small bazaar has increased and farmers are motivated to work on their farmlands as they earn better now," he says of the impact of the better road.
Hundreds of district residents travel the road each day in cars, motorcycles, and bicycles. Sometimes, the road benefits travelers from further away—when traffic is congested on the main Kabul–Logar highway, drivers from Logar, Paktia, and Khost Provinces use the road as an alternative route to Kabul city.
The ease in transport has made the area more attractive and increased the number of people moving to the area. "After the road was paved, new shops have been built. Access to the market has become easy and residency has increased in the area," says an ARAP provincial engineer in Kabul.
The road has not only improved access to markets and services, but also helped connect people to each other. Ubaidah, 35, a homemaker and mother of five, says the road has enabled her to visit her family who live in Kabul city, and even those who live in the same district, much more than in the past. "Previously, the road was one of the biggest reasons I stayed at home and not go out. There was so much mud and waterlogging on the road," she says. "For a homemaker like me, visiting family on special occasions is so important,"