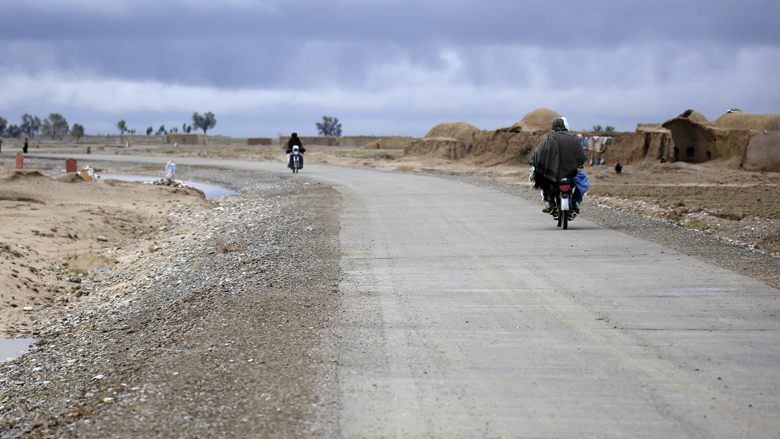 Afghanistan has made remarkable progress in many areas. Important development results have been achieved in areas such as health, education, microfinance, irrigation and rural livelihoods, as well as in progressive improvements in public financial management. In 2012, 2.7 million girls were enrolled in schools, up from 191,000 in 2002, while the percentage of Afghans who have access to primary health care and essential hospital services rose to 60 percent in 2012 from only 9 percent in 2003. The results achieved to date reflect the massive support of the international community to help rebuild Afghanistan and the efforts and ingenuity of many enterprising Afghans who continue to deliver services in challenging circumstances.
Challenge
In late 2001, after the fall of the Taliban and almost three decades of conflict, Afghanistan faced a daunting set of challenges. From this dire state, very significant progress has been made. By 2010, the government of Afghanistan initiated the Kabul Process, which aims to support full Afghan leadership and responsibility for the development of Afghanistan over the coming years. The Afghan government has initiated 23 National Priority Programs (NPPs) covering such areas as governance, service delivery and infrastructure. The government asked donors to align their programs with the NPPs to coordinate and target development efforts in support of principles of aid effectiveness.
Approach
The World Bank's current engagement with Afghanistan is determined by the Interim Strategy Note (ISN), which is closely aligned with the government's Afghanistan National Development Strategy (ANDS). World Bank support to Afghanistan over 2012-2014 will be based on supporting the delivery of some of the country's most important national priorities. It is also grounded in helping the government manage the critical transition from security and development dominated by the international community to one led by the government of Afghanistan by the end of 2014. World Bank Group support will be provided around three themes:
Building the legitimacy and capacity of institutions
Equitable service delivery
Inclusive growth and jobs
The Bank will deliver its program through International Development Association (IDA) grants, from which Afghanistan will receive about $150 million per year, as well as the Afghanistan Reconstruction Trust Fund (ARTF), which could potentially provide up to $800 million per year in grants during the period of the ISN (2012-14). The Bank's private-sector arm – the International Finance Corporation (IFC) — will also strengthen its support to both the private-sector companies and improving the business environment.
World Bank support emphasizes national programs that have improved the lives of millions of Afghans across the country, including in the areas of health, education, rural development, and public finance management.
Results
Education: The World Bank is helping to rehabilitate primary schools and train teachers, while giving technical assistance to strengthen the Ministries of Education and Higher Education. The Bank's Education Quality Improvement Program (EQUIP) gives funds to communities to rehabilitate or construct school buildings and access teaching and learning materials. Funds are directed through School Shuras, now functioning in more than 11,087 schools. Since 2001, over 930 schools have been established and the construction of a further 700 is in progress. Nearly 11,000 communities have formed School Management Shuras (Councils) to oversee school management and in some cases construct schools as well. Teachers across all provinces have received teacher training, and 3,500 female teachers have received scholarships to attend Teacher Training Centers. This year, the first national learning assessments are scheduled to be conducted. Since 2008, the Skills Development Program (ASDP) established the National Institute of Management and Administration and revitalized the Afghanistan National Institute of Music as the first institution for nurturing gifted young musicians in the country. The World Bank's Strengthening Higher Education Program supports 12 core universities to restore basic operations.
Health: With World Bank support in 11 provinces since 2003, the number of health facilities has nearly tripled from 148 to 432. Around 20,000 community health workers — half of them women — have been trained and deployed throughout the country, increasing access to family planning and boosting childhood vaccinations. The number of facilities with trained female health workers rose from 25% in 2003 to 74% today. Currently the World Bank's Strengthening Health Activities for Rural Poor Project is supporting Ministry of Public Health efforts to provide the Basic Package of Health Services in 11 provinces. A recently approved System Enhancement for Health Action in Transition (SEHAT) Program will cover both rural and urban areas in 22 of the country's 34 provinces. It will also strengthen the national health system and build the capacity of the Ministry of Public Health to effectively perform its stewardship functions at the central and provincial levels.
Rural Development: The National Solidarity Program - the country's largest ever development program - is empowering the grassroots of Afghan society for the first time in history. Across the country, over 49,900 elected Community Development Councils (CDCs) have identified over 69,000 projects to build and restore village infrastructure. By March 2013, 80 percent of CDCs have received over $1.2 billion in block grants to implement projects chosen through an inclusive decision-making process. About 80% of the projects involve infrastructure such as irrigation, rural roads, electrification, and drinking water supply, all critical for the recovery of the rural economy. More than half the projects have been completed.
The National Emergency Rural Access Project is working to provide year-round access to the rural areas of Afghanistan. Since 2002, a number of Rural Access Projects have helped build over 11,000 kms of village roads using local labor. These roads have generated significant employment and improved access to markets, schools and health facilities for rural residents. Over 27,000 villages have been connected to markets. The project has generated around 2 million days of employment for unskilled labor throughout the country.
Revenue Collection: With customs collections accounting for a substantial part of domestic revenues, efforts to modernize the customs administration and reduce opportunities for leakages have yielded substantial results. By end 2012, automated customs processes at major Custom Houses and Border Crossings were covering more than 95 percent of trade by value, increasing the speed of clearance and reducing the chances of revenue leakages, smuggling and corruption.
Power Supply: The Power Rehabilitation Project has helped to provide an improved and more reliable supply of electricity to the residents of Kabul. This has been facilitated by the rehabilitation of several facilities: 110 kV link between Kabul and the North East Power Transmission System (NEPS) with rehabilitation of Kabul North and Kabul North-West sub-station; the 110 kV line that brings power from the Naghlu and Mahipar Hydropower Plants into the city grid; completion of high-capacity optical fiber ground wire system (Chimtallah and Pul-e-Khumari) to control and operate the NEPS facilities; and rehabilitation of part of the medium voltage system of Kabul. This has given consumers in Kabul a much better power supply, doing away with the need to rely on expensive diesel power generation.
Additionally, two other ARTF-funded projects (Kabul-Aybak/Mazar-e-Sharif Power Project and Afghanistan Power System Development Project) are currently rehabilitating the distribution networks and some of the substations in the major urban population centers along the North East corridor. These projects — which cover Mazar-e-Sharif, Puli-e-Khumri, Charikar, Gulbahar, Jabul-Seraj, and parts of Kabul city — are expected to significantly improve the situation after their expected completion in 2013.
Horticulture: Under the Horticulture Component of the Horticulture and Livestock Project, over 3,100 ha of new orchards (grapes, apricots, almonds, and pomegranates) have been planted. More than 600 women have participated in the program.
Livestock: Under the Animal Health Component of the Horticulture and Livestock Project, 166 government veterinary clinics have been transferred to trained veterinarians for private operation. The Poultry Component has helped some 25,000 poor women enhance their incomes. Under this component, more than 25,000 intensive poultry units have been established, 12,000 of which were established in the spring and summer of 2011. It is worth noting that out of 7,000 units that had been established by 2009, a high percentage of them started the second production cycle without financial assistance from the project, thus demonstrating sustainability. So far, more than 20 million eggs have been produced. Furthermore, 200 small-scale broiler units were also established by December 2010.
Irrigation: Irrigation Restoration and Development Project (IRDP) builds upon and scales up activities supported under the completed World Bank-financed Emergency Irrigation Rehabilitation Project closed in December 2012. The Irrigation Rehabilitation Project helped rehabilitate 728 medium and large traditional irrigation schemes serving more than 802,000 ha of land in various parts of the country. An additional 164,800 ha of land are now receiving irrigation, and crop yields have increased substantially. Installation of 105 hydrology stations in different part of the country has been completed.
Rural Enterprise: The Afghanistan Rural Enterprise Development Project (AREDP) enhances economic mobilization and activities by organizing the rural poor into Savings Groups (SGs), Village Savings & Loan Associations (VSLA) and Enterprise Groups. The project then provides technical support to these groups so as to build a financial discipline through savings and internal lending practices, and technical support to enterprises. By March 2013, the program has mobilized over 2,700 Savings Groups with a membership of over 33,400 rural poor (49 percent women) in 377 villages. The SGs have saved over $1 million and members have accessed over 2,500 internal loans for productive and emergency purposes with a repayment rate of 95 percent. To generate economies of scale, 27 Village Savings & Loan Associations have also been established as federations of the Savings Groups, and are maintaining accurate and up-to-date records of accounts with good governance structure in place. On average each VSLA has $2,956 as loan-able capital which will be further boosted with a seed grant injection in the coming months. This improves access to finance for group members who cannot access such funds from commercial banks or microfinance institutions. AREDP also works towards strengthening market linkages and value chains for rural enterprises by providing technical support to over 130 Enterprise Groups (58 percent women) and 150 Small and Medium Enterprises that have been selected for their potential as key drivers of rural employment and income generation. AREDP uses Community Development Councils as an entry point into communities and is currently working in 20 districts of five provinces: Parwan, Bamyan, Nangarhar, Balkh, and Herat. 
Telecommunications: The government of Afghanistan is expanding connectivity in the country, mainstreaming the use of mobile applications, supporting the development of the local IT industry, and developing skills. The World Bank's Information and Communication Technologies (ICT) Sector Development Project is supporting strategic investments to expand connectivity and develop the IT skills of the Afghan people. By March 2013, project implementation has taken off and major contracts are being implemented – three contracts for the installation and commissioning of approximately 1,000 kilometers of fiber optic cables; and one contract for the establishment of a shared government mobile services delivery platform.
---
"Most people in our village depend on agriculture in some way or other. So, to stand on our own feet, it was essential for us to boost our agricultural produce as much as we could "
- an Afghan Farmer
---
World Bank Group Contribution
To date, the World Bank's International Development Association has committed more than $2.6 billion for development and emergency reconstruction projects and four budget support operations. This support comprises more than $2.19 billion in grants and $436.4 million in credits. As of March 2013, the Bank has 25 active projects in Afghanistan, with net commitments of more than $1.2 billion. A number of Bank-financed projects have been completed.
The World Bank administers the ARTF on behalf of donors. The ARTF is a partnership between the international community and the Afghan government to improve the effectiveness of the reconstruction effort. Since early 2002, a total of 33 donors have contributed over $6 billion to the fund, making ARTF the largest contributor to the Afghan budget - for both operating costs and development programs. ARTF's support for national priority programs, for operating costs of government operations, and for the policy reform agenda is contributing to the achievement of the Afghanistan National Development Strategy goals. By March 2013, more than $2.72 billion have been disbursed to GoA to help cover recurrent costs, such as civil servants' salaries, and over $2.6 billion had been made available for investment projects.
The International Finance Corporation, the World Bank Group's private sector development arm, continues to work with its investment and advisory service partners in Afghanistan. IFC Investment Services now has a committed investment portfolio totaling more than $80 million in four companies. These include commitments in the financial (First Microfinance Bank of Afghanistan, Afghanistan International Bank), telecom (MTN Afghanistan), and hospitality (Serena Kabul Hotel) sectors. IFC is exploring investment opportunities across the manufacturing, financial markets, and infrastructure sectors, and has recently completed a senior-level business development mission to Afghanistan. IFC Advisory Services is very active in Afghanistan with six current projects in Investment Climate, Access to Finance, Public Private Partnerships, and Sustainable Business Advisory areas. Two projects were successfully completed in the previous quarter and IFC expects to launch up to three new or next phase projects.
The Multilateral Investment Guarantee Agency (MIGA), the political risk insurance arm of the World Bank Group, has $150 million of guarantees outstanding in Afghanistan in support of MTN's cell-phone operations. MIGA is currently underwriting a $4.5 million textile investment in Afghanistan that will create a significant number of jobs, including boosting female employment.
Partners
The ARTF is a partnership between the international community and the Afghan government for the improved effectiveness of the reconstruction effort. Since early 2002, 32 donors have contributed over $4.1 billion, making the ARTF the largest contributor to the Afghan budget – for both operating costs and development programs.
Moving Forward
Afghanistan's achievements in the last ten years have been impressive in many ways. The coming years will be critical to strengthening Afghan institutions' ability to deliver basic services nationally and consolidate and expand the economic development gains made to date. IDA's role during this period—beyond the provision of its own resources—must be to continue to make the case for these principles, and to help the government effectively prioritize and utilize its own resources.